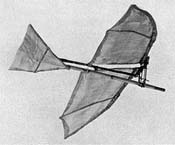 So, ppl ... wonder where i had vanished all this time, been on some very distant time travel into the depths of future. Nah. busy with IITJEE. well tats gone so now i can do some thing closer to my heart. This is what i have been working on.

ORNITHOPTERS


Seems a very far fetched name. But wat lies within is even more weird. Ornithopter as d name suggests is 'flight like birds'. flapping wings. no propellers.
The key difference between an ornithopter and an airplane is that the driving airfoils move up and down instead of rotating. For both the airplane and the ornithopter, most of the lift results from forward motion through the air. In the ornithopter, lift is produced by the flapping wings, often in conjunction with some additional fixed wings. Birds likewise use their body and tail as a fixed lifting surface.

Why Ornithopter ?
My sudden intrest in ornithopters can be attributed to the recent air mishaps- crashes. i was very upset. the current air plane designs are over a century old. fixed wings. high forward thrust, some thing new is required. Ornithopters are better in following ways:

Very high maneuverability

low noise
high lift
good fuel efficiency
Ornithopter isnt a new concept. the first ornithopter was built in early 1900s !! manned flights on ornithopters hav also been achieved. but considerable work needs to be done before u and i can ride one.
Now wat am i working on? am on a fold wing type model which will have a very strong downstroke, enabling it to 'climb'. i will write the details one i have made a successful model. But there is one problem. This isnt a basic science topic and hence i cant take it up in KVPY program. :(
Well then, i think 3d matrices will be good enough for the summer project ...
waiting for ur responses (and refueling my time machine)
TiMe